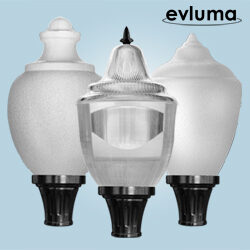 Evluma's Build-Your-Own Acorn is an Affordable Answer to Decorative Streetlight LED Upgrades
Posted on September 24, 2020
/
/
Comments Off

on Evluma's Build-Your-Own Acorn is an Affordable Answer to Decorative Streetlight LED Upgrades
Giving customers control over the creation of their own custom decorative 'full-head' fixture replacement, Evluma announces the release of Build-Your-Own Acorn.
September 24, 2020 Renton, WA…Street and area light manufacturer Evluma announces the release of Build-Your-Own Acorn; a full-fixture, decorative streetlight replacement solution that includes the customer's choice of acorn globe, finial and capital fitter. This solution is designed for utilities, municipalities, facilities and property managers looking to upgrade their existing decorative lighting from HID to LED and features the OmniMax™ LED lamp as its light source.
"Build-Your-Own-Acorn is a tailored solution that puts control in the hands of the customer," said Evluma Product Manager Jason Dobbs. "With the value-driven OmniMax at the center of quality, cost-effective options, this is an affordable approach to complete head replacements. Build-Your-Own-Acorn offers the freedom to replace and repair fixtures without being locked into a proprietary OEM solution that may be hard to change later and typically costs more. It's everything but the pole."
Build-Your-Own Acorn includes multiple styles of acrylic and polycarbonate globes, in addition to a cast aluminum capital fitter. The capital fits 3 inch and 4 inch poles and is offered in black or green. The 70W OmniMax LED lamp is offered in six different color temperatures ranging from 2000K-5000K in either the Premium or Standard. OmniMax Premium includes Evluma's patented, maintenance-saving Photocontrol Failsafe™ and compatibility with Evluma's Bluetooth lighting app ConnectLED™. OmniMax Standard ships without connectivity features or Photocontrol Failsafe built-in.
"Photocontrol Failsafe means never having to replace a failed photocontrol ever again," said Janine Soper, Evluma's Regional Sales Manager. "With ConnectLED, the OmniMax Premium can be quickly dimmed or programmed with a dimming schedule, offering additional aesthetic and energy saving opportunities," said Janine.
Both OmniMax models are supported by robust 20kV/10kA surge protection and the OmniMax's four layers of thermal management for extended operation in enclosed environments. The capital has a 5 year warranty on the finish. Acrylic globes are warrantied for 5 years against yellowing. The OmniMax and all electronics, including the capital's optional photocontrol are warrantied for 10 years.
About Evluma
Formed in 2008, Evluma is committed to developing affordable, long-lasting and environmentally low-impact LED lighting solutions that fundamentally change the landscape of the outdoor utility lighting market. Evluma's high standard of customer service and background in innovative lighting technologies, automation and software design creatively ideate and inform its utility-grade products. Evluma is located in Renton, WA, USA.