AreaMax™ LED Area Light - The Utility Standard
AreaMax LED luminaires save maintenance, save energy and save time making it the lowest cost of ownership LED street light and LED area light on the market.
Now with more lumens and more options!
Recommended Use
Replace 100-250W HID fixtures with a 30W, 40W, 55W 70W, 80W or 100W AreaMax in your choice of light pattern: Type V or Type III. Use for area and security lighting applications, street lighting, and parking lots.
Photocontrol Failsafe™
Evluma innovation solves photocontrol failures with Photocontrol Failsafe. Each AreaMax leave the factory programmed for the general location of the end user. Over time, the input from the photocontrol calibrates the AreaMax to its unique location and lighting conditions. Should the photocontrol fail, the AreaMax will continue to cycle based on the information it has collected eliminating a maintenance visit and guaranteeing continuous operation.
Photocontrol Option
Order with an Evluma integrated photocontrol for a single-solution, easy installation or S3 to reuse your existing 3 pin photocontrol. S7, the 7-pin socket option, supports 0-10V dimming and the power and voltage monitoring features of most wireless controls nodes.
Model Overview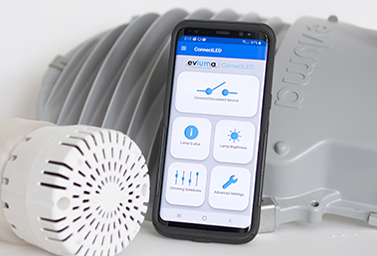 CONNECTLED™
Wireless Controls for all Evluma Products
Enhance your energy efficiency with dimming and custom brightness settings as well as reduce your maintenance costs with connect/disconnect functions. Now available for Android phones!
OMNIMAX™
Rethinking LED in All Directions
Emulating the light center and size of HID bulbs used in decorative light fixtures, the OmniMax omnidirectional decorative luminaire replacement lamp utilizes a novel light engine design and revolutionary optics.