OLS – OMNIMAX LIGHTING SOLUTIONS
OLS – OMNIMAX LIGHTING SOLUTIONS FOR DECORATIVE LUMINAIRES
Simultaneously renovate and upgrade your decorative light fixtures with Evluma's decorative luminaire lighting solutions. Evluma has curated several streetlight globes and acorn options to guarantee easy brilliance when installing OmniMax.
Adaptable, Low Glare, and Prismatic Globes
Choose from multiple styles, sizes and materials in order to match existing luminaires or transition to a new look to emphasize the change out from HID to energy-efficient LED. Designed for municipal, commercial or residential post top applications OLS offers textured or smooth surfaces, 8-inch or 9-inch neck sizes, and best-in-class impact resistant acrylics and UV stabilized polycarbonate.
LD Acrylic
Evluma recommends LD Acrylic for visually pleasing, low-glare utilitarian street and area lighting. Paired with the OmniMax this is your go-to-choice to wash historical and residential neighborhoods with effective, soft-glow illumination. Optical transmission >90%. Like white or clear acrylic, LD Acrylic is UV and impact resistant an supports a continuous operating temperature of up to 90°C (194°F).Functionality Overview
Acrylic
Acrylic globes stay sparkling even after prolonged use. Exceptionally resistant to weathering and aging including damage from UV, acrylic is also impact resistant.  Maximum working temperature 90°C (194°F). Optical transmission up to 92%. Available in white or clear.
Polycarbonate
Lighter than glass yet translucent, polycarbonate is recommended for extreme environments with a high impact resistance even at subzero temperatures (-40°C), or a high operating temperature of 100°C - 125°C (257°F). UV stabilized and shatterproof. Optical transmission up to 88%.
ADDITIONAL PRODUCTS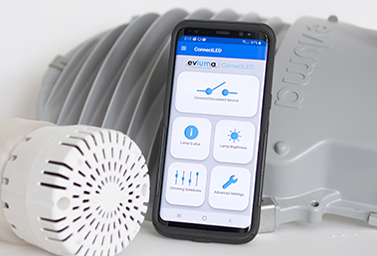 CONNECTLED™
Wireless Controls For All Evluma Products
Enhance your energy efficiency with dimming and custom brightness settings as well as reduce your maintenance costs with connect/disconnect functions.
Now available for Android phones!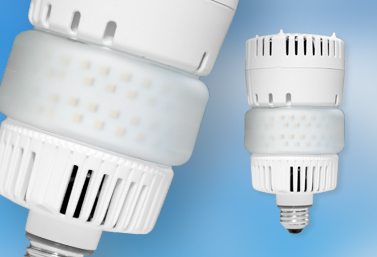 OMNIMAX™
Rethinking LED In All Directions
Emulating the light center and size of HID bulbs used in decorative light fixtures, the OmniMax omnidirectional decorative luminaire replacement lamp utilizes a novel light engine design and revolutionary optics.
OPTIONS:
8" or 9" necks
Type V or Type III
Multiple styles
Multiple materials
Dark Sky Friendly
PRODUCT DOWNLOADS AND INFO