OMNIMAX - RETHINKING LED IN ALL DIRECTIONS
Emulating the light center and size of HID bulbs used in decorative light fixtures, the OmniMax omnidirectional LED replacement lamp utilizes an Evluma novel light engine design and revolutionary optics. Dramatically smaller than typical 'corn cob' style retrofits this compact 'smart' lamp delivers a diffuse pleasing light in a choice of color temperatures.
Recommended Use
Replace 70-175W HID bulbs with either a 40W, 70W and now 100W OmniMax. For use in enclosed decorative or pedestrian light fixtures, the OmniMax is ideal for streetscapes, plazas, waterfronts, pathways or parks.
Evluma has built its reputation on reliable and easy-to-install retrofits. Wiring around, or removing the legacy ballast is required prior to permanent installation.
Photocontrol Failsafe™
Evluma innovation solves photocontrol failures with Photocontrol Failsafe. All OmniMax leave the factory programmed for the general location of the end user. Over time, the input from the photocontrol calibrates the OmniMax to its unique location and lighting conditions. Should the photocontrol fail, the OmniMax will continue to cycle based on the information it has collected eliminating a maintenance visit and guaranteeing continuous operation. OmniMax Photocontrol Failsafe requires the use of a fail-on photocontrol.
Standard (option) vs. Premium
Evluma offers the OmniMax in two basic configurations, Standard and Premium. All configurations offer the same electrical performance, lumen maintenance and warranty.  Order the Standard option if your lights run on a controlled circuit or you have no need for Photocontrol Failsafe. Standard models do not contain Bluetooth and are not compatible with ConnectLED.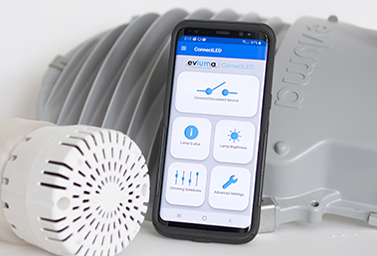 CONNECTLED™
Wireless Controls For All Evluma Products
Enhance your energy efficiency with dimming and custom brightness settings as well as reduce your maintenance costs with connect/disconnect functions. Now available for Android phones!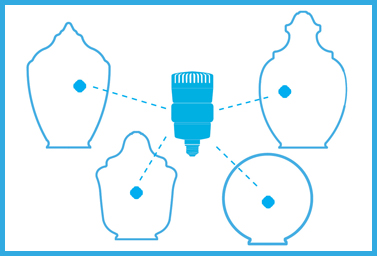 OLS - GLOBES & ACORNS
OmniMax Lighting Solutions
Simultaneously renovate and upgrade your decorative light fixtures with Evluma's decorative luminaire lighting solutions.
FEATURES:
Photocontrol Failsafe™
20kV/10kA Category High C surge protection
120-277 VAC 50/60hz
Class II Driver
L70 >70,000 hrs
Molded silcone, matte-finish optics
Thermal protection circuity
96 radially mounted LEDs
OPTIONS:
E26 or E39 base
Multiple CCT
Standard
CONNECTLED™
Connect, control and query your OmniMax with Bluetooth ConnectLED. Dimming schedules can coordinate with temporary lighting installations to enhance ambient conditions and save energy. OmniMax is compatible with ConnectLED for Apple or Android. See brochure for details.
WARRANTY
The OmniMax has a 10-year Warranty. OmniMax for use in enclosed fixtures only.
PRODUCT DOWNLOADS AND INFO