BUILD-YOUR-OWN ACORN – FEATURING OMNIMAX

Our Build-Your-Own Acorn solution delivers a complete, customizable architectural lighting solution featuring the OmniMax, Evluma's patented, screw-in LED retrofit as the light source. The solution is designed for utilities, municipalities, facilities and property managers looking to upgrade existing decorative lighting from HID to LED.
Extraordinary Quality, Everyday Affordability, Time-Saving Versatility
Avoid complicated kits, difficult mountings, elaborate wiring and large minimum requirements. Select only what you need to effortlessly complete your project on-time and on budget. Build-Your-Own Acorn offers the freedom to replace and repair fixtures without being locked into a single OEM solution. It's everything but the pole.
How it Works
Follow Steps 1-3 to build your own acorn, or take steps 1, then 4, to add OmniMax to an architecturally styled fixture that includes options for bands and arms. For details and the complete range of choices, please see the brochure.

STEP 1:
Build-Your-Own Acorn features the mogul base OmniMax in 40, 70 or 100W. Choose from one of six correlated color temperatures (CCT) to achieve the desired ambiance and Spectral Power Distribution (SPD). OmniMax offers three CCT under 3000K: 2000K, 2200K and 2700K. Specify OmniMax Premium – which includes Photocontrol Failsafe and operates with ConnectLED – or OmiMax Standard.

Say goodnight to Dayburners with Photocontrol Failsafe. This built-in feature eliminates the additional maintenance associated with Photocontrol Failures. ConnectLED is a Bluetooth App used to wirelessly control the OmniMax. All OmniMax are 120-277VAC.

STEP 2:
Choose the configuration of the capital fitter, or base. Order with or without a photocontrol depending on the electrical configuration of your lights. What color would you like? The fitter is offered in black or green and fits the 8" globes offered in our OLS collection.

STEP 3:
Choose your preferred style of acorn globe and material. Build-Your-Own Acorn includes prismatic Type V and Type III options, low-glare, diffuse acrylics and sparkling polycarbonate. Please see the OLS page for a description of the available materials. The capital that comes with Build-Your-Own Acorn fits globes with an 8" neck. Need a hand cross referencing your existing style? Please reach out to our sales team for more information. We are here to help!

STEP 4:
As part of Build-Your-Own Acorn Evluma offers two ornate, architecturally styled fixtures. One comes with decorative arms and both come with cap and finial. Combine the OmniMax (Step 1) with either of these ornate fixtures (Step 4) to complete your build.

ACCESSORIES
Looking to add a finial? Have a requirement to reduce uplight? Depending on the globe, uplight blockers and final options are available. We also offer a handy set of snap-on shields for the OmniMax designed to cut down on uplight and soften the house-side throw.

ADDITIONAL PRODUCTS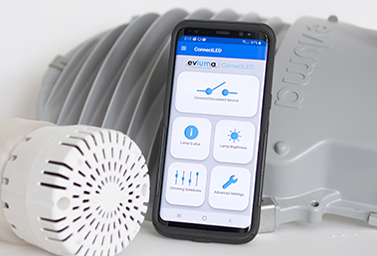 CONNECTLED™
Wireless Controls For All Evluma Products
Enhance your energy efficiency with dimming and custom brightness settings as well as reduce your maintenance costs with connect/disconnect functions.
Now available for Android phones!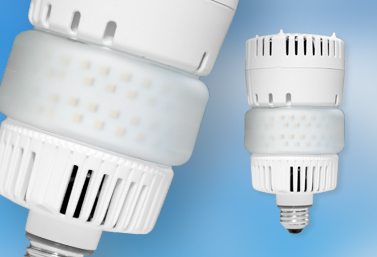 OMNIMAX™
Rethinking LED In All Directions
Emulating the light center and size of HID bulbs used in decorative light fixtures, the OmniMax omnidirectional decorative luminaire replacement lamp utilizes a novel light engine design and revolutionary optics.
OPTIONS:
Type V or Type III

Multiple styles

Multiple materials

Uplight blockers & shields

6 CCT: 2000K – 5000K

OmniMax Premium or Standard

Colors: Black or Green

Accessories
PRODUCT DOWNLOADS AND INFO